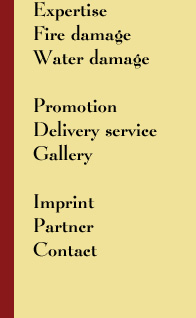 Water Damage
In the case of water damage, e.g. due to a burst pipe or leakage in the heating system, a carpet can be adversely affected by dirty water.

An expert opinion determines whether the fire incident has caused a fall in value. First the carpet is cleaned. Then further steps are initiated, which include contacting the insurance company concerned.


Prices are calculated according to expenditure. We look forward to offering you advice and information at any time and without obligation.

Our contact form is available to you at all times for this purpose.
Please see our delivery service (Germany/Europe) for all services provided.